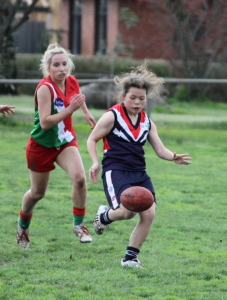 R3 saw us play the undefeated Lalor Stars at our first home game at AH Capp Reserve. It was a nice still day and we kicked off at 10:15 as lead up to the reserves and seniors.
The girls started very well with a blistering first quarter where we had 10 scoring shots to nil. The best first qtr for a long time as we are usually slow starters. This was achieved by some great ruck work by Shan who gave us first use. Jess, Em, Phungy and Mei enjoyed this and together with Bree on the wing/Half back the ball was always in our forward line.
Darebin: 5. 5. 35
Lalor Stars 0. 0. 00
The second qtr was very physical with both sides going hard at the footy. Sarge stepped up in rhe ruck and Darebin kicked 3 this quarter thanks to some good team work from Tina (playing her first game in 2 years) Dani controlling her wing and Issy winning in the middle. The back line led by Gunners and Alice were impassable holding Lalor Stars scoreless again!
Darebin: 8. 6. 54
Lalor Stars 0. 0. 00
The third quarter was more of the same bruising footy with both sides not giving an inch. Our girls insistence on sharing the footy was the difference. A great example was the chain of handballs deep in our back line by nearly every backman which released Jess who ran and carried to kick on that trusted left foot out to Phungy who then ran and carried and kicked to a leading forward. The forward line then flicked the ball around to facilitate a great running goal by Rechelle. Rechelle had seen off her 3rd opponent by this stage!
Darebin: 11. 8. 73
Lalor Stars: 1. 0. 06
The last quarter started with Em D being slung to the ground after disposing of the footy and play being stopped while she was escorted off the ground. We were one down as we had no bench and this only stirred the girls on who played an outstanding qtr. Abbs starred on the ball and Danni attacked the ball with great tenacity. It was this quarter which saw a sick Gunners get hit disposing the ball only to get up straight away to take a screamer in defense. Em D returned giving us equal numbers and greater drive around the ball. It was revealed after the game Em had suffered mild concussion and had to be monitored during the afternoon. It was great to have Sarah back for her first game of the year. She quickly tool control at CHF with one towering mark and quick play style. Mei and Rechelle both starred in the forward line and stints on ball. Sarge is getting better every game and kicked 3 good goals agains strong opposition. We were able to play everyone in several positions against a very good opposion.
Darebin: 14. 10. 94
Lalor Stars 2. 3. 15