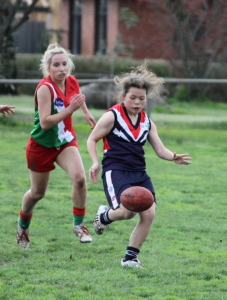 The Falcons Youth Girls Football side have progressed through to the grand final against St Damians this saturday after an emphatic win over Lalor Stars…
On a bright but windy day the Falcons took to the field in their first ever final against Lalor Stars. With Abbs running water and Shan taking the stats the team was all together for the first time in a long while. Darebin won the toss and kicked to the scoring end. The first centre square clearance by Jess was a beauty kicking the ball long to Mei (in Front) who handballs back to Rechelle who does the right thing and centers the kick where Jess ran onto and kicks the first goal all in under 10seconds! This set the tone for the rest of the day.
With the ball back in the middle Phungy throws herself at it and is rewarded with a free kick to put us in attack again. The forwards in Alexis, Sarah and Em Whitty all in front and applying enormous pressure to allow us to keep the ball in and kick 2 points. The pressure was so good that it caused a turn over and Jess slotted her 2nd goal to get qtr giving the falcons a flying start. With the ball back in the middle Jess wins another clearance getting the ball out to her sister Emily who with the help from Phungy and Rechelle (who supplied great shepherds) kicks the ball to Sarah who kicks to the hot spot and follows up her own kick to get it out to Em who gives to Mei who runs into open goal only to miss to the left. When the ball ventured into our back line it was Elise (Centre Half Back of the Year) who put her body in over the ball, received the free kick to then kick quickly to Dal Pos who marks, plays on hand balls back to running Issi who kicks to Sarah (Centre Half
Forward of the Year) who turns and gives hand ball out to Rechelle who slots a great team goal. Our 4th goal came from a ruck contest in the forward line where Issi tapped the ball to Alexis who with quick hands released Sarah who kick truly from an acute angle to slot a great goal. This was achieved due to players like Danni, Rechelle, Jess and Pheobe applying great protecting off the ball. The rest of the qtr was the same with a disciplined display from all giving Mei and Rechelle several chances only just missing their shots running into goal.
 Qtr Time Score:
Darebin       4.5- 29
Lalor            0.0- 00
The girls were instructed to run the footy against the wind and share it as much as possible. This they did with Phoebes and Taylah attacking the footy releasing it to Jess who spotted up Rechelle with a beauty who Hand balls to Sarah who runs into goal and kicks the first of the quarter. This quarter we had Gunners up forward who is always in front and created a contest for Phungy to run past and kick a great running goal. The next clearance saw Jess and Danni share the footy with Danni kicking it to Sarah (Who refuses to be behind). Lalor were trying hard however everytime they went forward Issi and Elise simply denied them with one passage of play they shared the footy and got it out to Dal Pos on the wing who kicked long into the forward line where Ash used her strength and oushed  2 opponents off to kick a great goal. Bree went into the middle and made an immediate inpact by attacking the footy and being rewarded with a free. This started a great team effort where Bree kicked out to Sarah who in turn passed the footy to Rechelle who turned and kicked it to a great lead by Gunners 15m out dead in front. The back line led by Danni, Em Whitty and Elise together with some tough footy by Bree and Mei kept Lalor scoreless with the breeze. Great footy by all.
 Half time score:  
Darebin     7.6 – 48
Lalor         0.0 – 00
The third quarter was more of the same with Elena and Ash applying pressure to keep the ball in our forward line. Rechelle then attacked the footy and was rewarded with a free kick, centered the ball to Jess who ran into an open goal for her 3rd. Elena was everywhere with 2 shots on goal just missing, Taylah winning on her wing and Phungy dominating together with Jess the ball stayed in our forward line. It was Bree and Gunners who held firm in our back line and repelled several attackes as Lalor tried to lift as they sensed the game was slipping from them. With ball deep in our forward pocket some great pressure form Ash and Em Whity and Rechelle released the ball for Phungy to swoop and kick a great goal. The centre clearance was won by Jess who Handballed to Phungy who ran and kicked long only to see the ball skew of the side deep into the pocket. No matter Em Whitty ran hard to pick it up and kick the goal of the day. The crowd (Thanks to the seniors who came to support) were now on their feet cheering madly for the baby Falcons.
3 Qtr Time Scores:
Darebin      10.11 – 71
Lalor            0.0  – 00
The Last quarter the girls were aksed for a big effort as we knew Lalor would throw everything at us. With Bree, Izzy, Mei and Gunners around the ball we had nothing to worry about as they harassed chased and stopped Lalor in their tracks. It was this quarter that we put young Danni onto their best player Sharni up forward as their plan was to get the ball down to her one on one. Time and time again Danni stood up to the challenge (There is something like 70 games difference between the 2) as she harassed and stopped Sharni from having an impact. This game was best summed up when Sharni finally broke thru with Lalors firsat goal unde lots of pressure from Danni. 4 Darebin girls ran to Danni to encourage and acknowledge a job well done. With this attitude we can do anything. GO Falcons.
Final Score:
Darebin    10. 13  – 73
Lalor          1.0  – 06
Well done to all the girls and thanks for everyone getting behing the girls. Come along and support the girls in their attempt for a flag next week at Ford Park in Ivanhoe at 9am Saturday.